Whenever we speak with our clients, one thing that comes up very frequently is the need to consolidate. That is the need to consolidate all aspects of their service into one easy to manage location. Naturally, our wide array of products allow for all base-level online services to be entirely consolidated with us, such as our dedicated server range and our online backup facilities.
However we are now interested in taking this idea of total consolidation to the next level. This will greatly improve customer satisfaction as well as entirely streamlining the processes surrounding the ownership of a Netwise Hosting contract. Every aspect of a customer's account can now be controlled from a central online location, ensuring clients have all the information they require in an instant. Couple this with our Single Point of Contact Account Management, and it becomes apparent just how rewarding a contract with Netwise Hosting can be.
So lets explore the new my.NetwiseHosting Customer Portal, and see what it can offer you as an end-user.
Firstly you will notice that the my.NetwiseHosting section of the website differs in appearance when compared directly with the main site. This is intentional, and ensures users understand the transition they have made from the main web pages to their own personalised portal. In this sense, users are taken into their own personal space, away from the public site and can enjoy the beginnings of a truly personal online experience.
The portal also handles all billing and payment methods, which makes any required alterations and recurring payments incredibly easy to handle. Invoicing, quotes and other such related documentation can all be handled digitally through the portal, meaning a singular point of contact for every single aspect of your account is maintained at all times. Handling such documentation online also aids in ensuring Netwise Hosting's carbon footprint remains in check; ultimately allowing us to pass our savings in consumption onto you.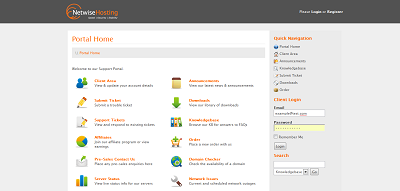 Hosting such a complete method of managing your account with us online not only makes the management of your services easier as an end-user, but also translates into the more efficient inter-personal management of clients from our end. This in turn gives greater flexibility in all areas of service deployment and support; so vastly improving relationships between clients and Netwise Hosting. And as anyone will tell you, a business based on a solid working relationship is far healthier and endlessly more rewarding than the blank faceless provision of user services.
In summary, the primary aim of this new customer environment is to make life easier for our clients through complete and total consolidation of all contact and service related processes. It also helps Netwise Hosting to better deal with our growing customer base, which again benefits clients in the more efficient management of their needs and wants. Moving on from this, we would like to invite readers to register online with our new system and give it a try. Any feedback would be greatly appreciated, as the portal should reflect everything our users want.
You can register by visiting the portal here and clicking the Register link at the top of the page.
We sincerely hope that you enjoy using the my.NetwiseHosting Customer Portal, and find it a useful and rewarding tool in the handling of all areas of your services with us.