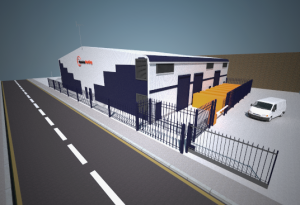 This week we are officially announcing the details of our new data centre, opening in Central London next year. It's now official – Netwise Hosting will be opening a brand new data centre and adjoining head quarters in Bermondsey, with a soft opening set for late March 2014.
The new 11,000sq ft facility will become our flagship data centre, comprised of a two-story zoned technical space holding in the region of 200 racks, comprehensive NOC and support centre, customer lounge and accommodation, meet me rooms, loading bays and warehouse space, central offices and further amenities still undisclosed to the public at this time. The site is being deployed with the very latest in eco-efficient technology, bringing our fantastic green credentials into Central London for the first time.
The new facility will be known as Netwise Hosting Central, located just a few minutes walk from Bermondsey Underground Station, and less than a mile from London Bridge / Cross-Rail. Our existing facility in Sutton will be renamed Netwise Hosting South.
Netwise Hosting Central will up our available rack space capacity by around 900%.
Matthew Butt, Managing Director at Netwise Hosting, has given comment on the ambition of the project.
As with our Sutton data centre in South London, we will be leveraging our in-house expertise in various M&E disciplines to bring this project to life with minimal reliance on 3rd parties.
This is a huge step for us, increasing our available capacity by around 900%. We are chasing the booming Central and East London market with this facility, looking to bring our winning formula of value, quality and flexibility to a customer base closer to the City and Docklands.
We are aiming to maintain the same pricing structure as we have in place at our South London facility, which will likely equate to the best value data centre services anywhere in Central London.
We will be releasing further details on the progress of this project as things move forwards over the next two months. We will also be updating our website and associated materials in the coming weeks. For further details, please contact a member of our team.