After our official opening back in May 2012 by Mayor of London Boris Johnson, it had been a fair while since a VIP guest passed through our South London offices.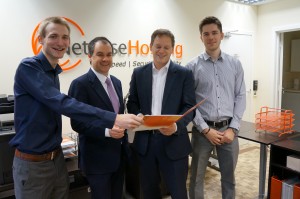 This week saw another Government heavyweight visit our award-winning data centre, this time being Grant Shapps MP, Conservative Party Co-Chairman. His visit to our facility formed part of an on-going Government initiative to encourage more young people into business, with Netwise Hosting's unique story being used as an example of success.
Paul Scully, who is running for local MP of Sutton and Cheam – the affluent home borough of Netwise Hosting's facility – also visited the site. Scully has been a long-time supporter of Netwise Hosting, and hopes to use the business as a glowing example of successful enterprise in Sutton.
Not only did the two visitors and their associates gain a better understanding for the business during their morning with the management team – they also enjoyed a full tour of the data centre, a first for many in the group. Emphasis was placed on the sites use of modern, green technologies to deliver some of London's most affordable colocation space.
You can read more about this visit on The Guardian Online.