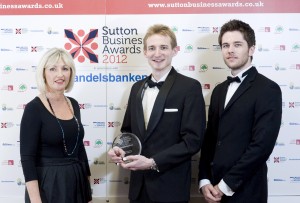 Having been short-listed from over 180 companies, Netwise Hosting took home the winning trophy in the Best New Business category at The Sutton Business Awards 2012 last night (10th May 2012), held at Epsom Downs Racecourse.
The award serves as recognition for the company's hard work and commitment to success since its launch in 2009, with both Matthew Butt (Managing Director) and Matt Seaton (Senior Manager) in attendance to collect the award.
"Our win comes as a total surprise to us, we came in with no expectations whatsoever, so a win for us means so much moving forwards. A huge thanks to everyone who has supported and followed our progress to date." – Matthew Butt
The award ceremony was the first of its kind for the Borough of Sutton, though the success of this show will undoubtedly lead to the event becoming an annual tradition for local businesses. Celebrations went on until late evening, and proved highly successful in bringing like-minded individuals together under one roof to honour those making a real economic difference in the area.
Netwise Hosting have automatically been short-listed for the South London Business Awards 2012 because of their win at the Sutton Business Awards.
"We can't wait to attend the South London Business Awards, we know the competition here will be even higher, but simply getting the recognition and opportunity to rub shoulders with the other finalists is great for us." – Matt Seaton